Abstract
High-entropy alloys (HEAs) are an emerging class of alloys with multi-principal elements that greatly expands the compositional space for advanced alloy design. Besides chemistry, processing history can also affect the phase and microstructure formation in HEAs. The number of possible alloy compositions and processing paths gives rise to enormous material design space, which makes it challenging to explore by traditional trial-and-error approaches. This review highlights the progress in combinatorial high-throughput studies towards rapid prediction, manufacturing, and characterization of promising HEA compositions. This review begins with an introduction to HEAs and their unique properties. Then, this review describes high-throughput computational methods such as machine learning that can predict desired alloy compositions from hundreds or even thousands of candidates. The next section presents advances in combinatorial synthesis of material libraries by additive manufacturing for efficient development of high-performance HEAs at bulk scale. The final section discusses the high-throughput characterization techniques used to accelerate the material property measurements for systematic understanding of the composition-processing-structure-property relationships in combinatorial HEA libraries.
Keywords
High-entropy alloys, machine learning, combinatorial studies, high throughput, additive manufacturing, alloy design
INTRODUCTION AND MOTIVATION
Throughout history, metallurgists have altered the properties and compositions of alloys to achieve higher-performance materials. Traditional alloy design strategies involved microalloying trace elements into a primary base element, resulting in the discovery of many valuable alloys such as Cu-based bronze, Fe-based steels, and Ni-based superalloys. Over time the increasing demand for high-performance materials has led to increasingly complex alloys[1]. This trend has peaked in the past 20 years with the introduction of multi-principal element alloys or high-entropy alloys (HEAs)[2]. Unlike traditional alloys, HEAs do not contain a single primary element; instead, multiple elements in the alloy are mixed in relatively similar (almost equiatomic) concentrations. Cantor and Yeh first popularized this new alloying strategy concept in 2004 when they independently published works describing the manufacture and design philosophy of this new class of alloys[3,4]. Since the publication of these two works, the field of HEAs has exploded as such a new alloy design paradigm opens up a vast compositional space that was previously unexplored[5]. Although some fundamental questions such as phase selection and diffusion kinetics in HEAs remain elusive, many HEAs have shown high strength[6-8], large ductility[9], exceptional hardness and wear resistance[10-12], and superior corrosion resistance[13].
Despite the great potential that HEAs present for researchers, some crucial challenges must be overcome to increase their viability for future applications. While HEAs open up an uncharted multicomponent compositional space for material design, the vast compositional space makes it impractical to explore via traditional metallurgical techniques[14]. Additionally, the cost of HEAs can vary wildly due to the variety of possible elemental combinations. Some alloy systems only contain cheap transition metals (Fe, Ni, Cr)[15] that may be easy to scale, while other systems contain refractory elements (W, Nb, Ta)[16], which can significantly raise the cost of material. Finally, processing history significantly affects the microstructure and material properties even for a given nominal alloy composition. Many processing conditions including temperature, cooling rate, mechanical deformation, and irradiation can play a significant role in the formation of constituent phases and microstructures in HEAs[17-20]. Hence, processing imposes an additional and orthogonal dimension that multiplies with the huge compositional dimension and makes it more difficult to efficiently identify high-performance alloys using conventional alloy development strategies[21-23]. Thus, it is paramount for researchers to utilize efficient workflow to minimize the cost and experimental trials to study HEAs.
Over the past decade, many high-throughput material development techniques have emerged to tackle the combinatorial nature of HEAs. These techniques include magnetron sputtering, diffusion multiples, and additive manufacturing. Magnetron sputtering uses a magnetically confined plasma to accelerate positively charged ions toward a target material, leading to the sputtering of the target atoms onto a substrate to form a thin film with a thickness ranging from a few nanometers to a few microns[24]. A combinatorial materials library can be built by sputtering multiple elemental targets onto a single substrate[24-29]. The diffusion multiples method involves arranging different metals such that they are physically touching. Then this configuration is heated to an elevated temperature that enables atomic diffusion across the interfaces between the different metals. This process leads to a compositional gradient near the interface that serves as a compositional library[30-34]. Despite the large compositional space that diffusion multiples and magnetron sputtering can achieve, these approaches encounter some difficult issues. Both techniques involve samples of microscopic length scales, and thus, the microstructures and material properties observed from these libraries may not be representative of these materials at bulk scales. In addition, magnetron sputtering involves extremely high cooling rates on the order of 1010 K/s, which are substantially higher than those involved in routine metal manufacturing[35,36]. As such, the phases and microstructures in sputtered thin films are almost exclusively polymorphic or even amorphous and thus do not represent the microstructures of bulk materials for most practical applications.
Additive manufacturing (AM), also called 3D printing, is a technology to make objects from 3D digital data, usually layer upon layer, as opposed to subtractive manufacturing technologies[37]. There exist several types of AM systems that can be used to produce metal alloys: powder bed systems, powder feed systems, thermal spray systems, and wire feed systems. In the case of a powder bed system, the feedstock powders are spread over a flatbed, and a 2D pattern is selectively melted over the bed using either a laser or electron beam as a heat source[38,39]. Powder feed systems flow powders through a delivery nozzle using a carrier gas and then melt the powders onto the substrate as it impacts the substrate using heat from a laser[40,41]. Thermal spray 3D printing (TS3DP) systems spray heated powders at high velocities onto a substrate leading to bonding between powder particles as they impact the substrate surface. This allows parts to be built layer by layer without the large heating and cooling rates of laser-based techniques[42]. Finally, wire feed systems use metal wires as feedstock and can use either electric- or plasma-based welding arcs to melt the wire and build a part layer by layer[43-46]. AM of multiple elemental feedstock powders or wires offers the capability to build large compositional libraries at bulk length scales. Furthermore, careful control of the printing parameters during AM, such as laser power and scan speed, allows for tailoring the cooling rates and resulting solidification microstructures to expand the material development space.
In order to rapidly discover new HEAs with desirable properties, researchers need to utilize an efficient workflow to leverage the strengths of various design and characterization techniques. Figure 1 illustrates a typical protocol for high-throughput development of HEAs. First, the elements of interest are selected based on their fundamental properties and interactions, which are fed into a high-throughput computational method like machine learning, molecular dynamics, CALculation of PHAse Diagram (CALPHAD), or first-principles calculations. These computational methods can then predict the bulk materials' phase formation, microstructure, and properties for initial screening of potential compositions of interest. Subsequently, high-throughput manufacturing can be used to fabricate the vast material library and high-throughput materials characterization enables rapid measurements of the material properties. This review focuses on high-throughput computational techniques, synthesis methods, and characterization studies that produce and analyze alloys with reasonable cooling rates at bulk scale. First, this review explores the high-throughput computational methods that can easily identify the potential compositions that show promising properties for structural or functional applications. Then, it discusses the high-throughput manufacturing of bulk compositional libraries encompassing a wide range of potentially interesting alloys by AM. The final section of this review describes some high-throughput characterization techniques to accelerate screening of multicomponent metal alloys. This combination of high-throughput methods offers a guideline for researchers to discover new alloys rapidly and efficiently.

Figure 1. Schematic illustration of a typical protocol for high-throughput development of HEAs. (A) Selection of elements for a prospective alloy system; (B) high-throughput computational methods are used to select a range of promising compositions that can be explored experimentally; (C) high-throughput manufacturing and characterization of the promising compositions selected via computation to determine the target composition. The lower illustration in (C) is quoted with permission from Borkar et al.[47], copyright 2016, Elsevier. HEA: High-entropy alloy.
OVERVIEW OF HEAS
Definition of HEAs
There currently exist two well-accepted definitions of HEAs. The first one, referred to as the "compositional definition", states that HEAs are alloys with multiple principal elements (at least 5) where each principal element makes up 5 at. % to 35 at. % of the overall composition[4,48]. The most commonly studied HEA is the Cantor alloy system which contains equiatomic CoCrFeNiMn, a prime example of this definition[2,3]. Figure 2A illustrates this high-entropy region within a ternary phase diagram, with the center of the phase diagram covered by the high-entropy region[49]. It should be noted that the edges of the phase diagram in Figure 2A may contain two or more elements to match the composition definition. Additionally, minor elements can be added to a base HEA system to tune its properties further[50].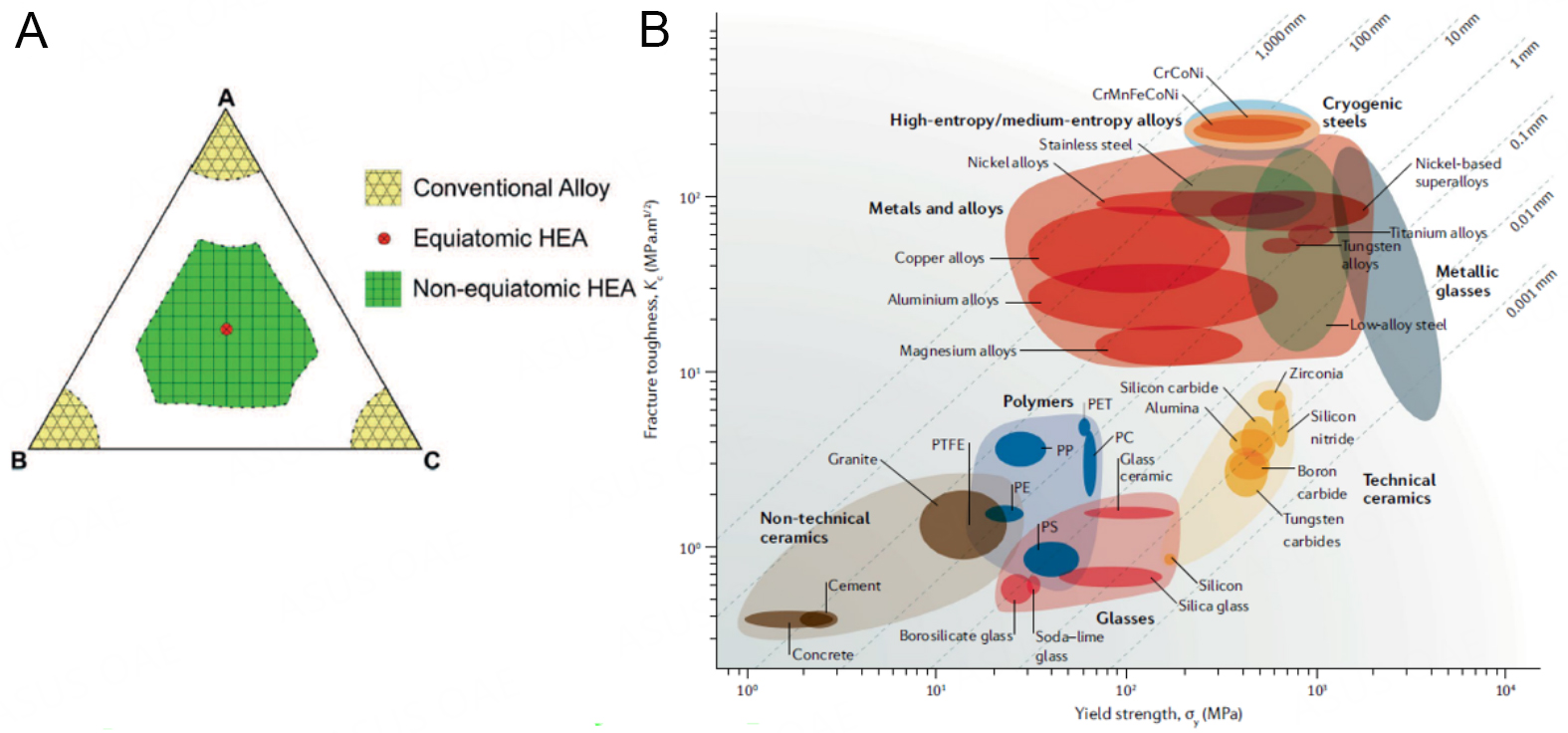 Figure 2. (A) Schematic illustration of the composition space of conventional alloys, equiatomic HEAs, and non-equiatomic HEAs. This figure is quoted with permission from Li et al.[49]; (B) ashby chart of the yield strength vs. fracture toughness of many material groups showing high/medium entropy alloys have excellent damage tolerance, adapted from George et al.[5], copyright 2019, Springer Nature. HEA: High-entropy alloy.
The second widely accepted definition is based on the mixing entropy of an alloy system, assuming an ideal random solution state. The mixing entropy is calculated as
where R is the ideal gas constant, n is the number of principal elements, and xi is the atomic fraction of the ith element[48]. Yeh et al. separated the alloy design space into three regimes where a low entropy alloy has ΔSmix  < 0.69R, a medium entropy alloy has 0.69R  < ΔSmix  < 1.61R and a HEA has 1.61R  < ΔSmix[51]. It should be noted that the definition of mixing entropy above includes the assumption that the random solution state is defined as the liquid state or a high-temperature solid solution state such that the atoms have enough energy to maintain completely random configurations[51]. However, it has been pointed out by Miracle et al. that the above threshold for HEAs would exclude certain non-equiatomic alloys with five principal elements, as calculations show that such alloys exhibit ΔSmix  < 1.61R[48]. Miracle et al. also pointed out that others have suggested using a threshold of 1.36R  < ΔSmix which would include the alloys that were excluded by the threshold proposed by Yeh et al., making the entropy definition more consistent with the principal element definition[48].
Four core effects
Despite their relatively short history, HEAs have already shown great potential for practical applications. Their properties are already competitive with and even exceed those of state-of-the-art materials. This potential is highlighted in Figure 2B, which illustrates the exceptional combination of high toughness and yield strength of HEAs compared to traditional structural materials[5]. The origin of these outstanding properties is often attributed to four core effects associated with HEAs: the high entropy effect, severe lattice distortion, sluggish diffusion, and cocktail effect[48]. Figure 3 presents a schematic illustration of the four core effects associated with HEAs. Each of these effects contributes to the unique properties observed in HEAs, and these contributions will be discussed below.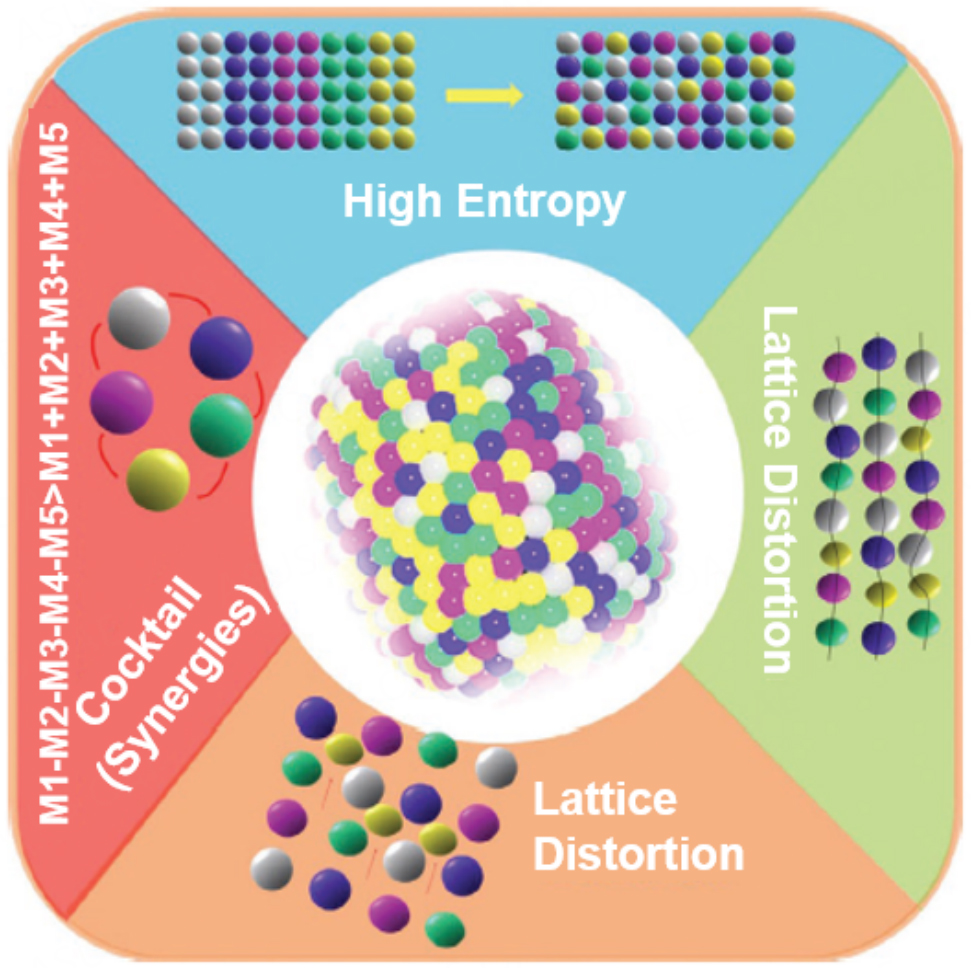 Figure 3. Schematic illustration of properties of HEAs. This figure is quoted with permission from Li et al.[52], copyright 2021, John Wiley and Sons. HEA: High-entropy alloy.
High entropy effect
Traditional alloying strategies suggest that alloys with multi-principal elements form multi-phase, brittle intermetallic systems[51]. However, many works on HEAs show they could achieve metastable and stable single-phase solid solutions[53-55]. Even in HEAs that show multiple phases, the number of phases is much lower than the maximum number predicted by the Gibbs phase rule[56-58]. These results suggest that the high mixing entropy leads to increased mutual solubility of elements in HEA systems. The effect of high mixing entropy is described by the equation for Gibbs free energy of formation, which implies that phases with high entropy will have a lower Gibbs free energy and thus be more stable[59]. Thus, the high mixing entropy aids in stabilizing single-phase solid solutions as long as this contribution overcomes the enthalpy of formation of possible intermetallic phases, especially at elevated temperatures. Additionally, this relationship also implies that the contribution of the mixing entropy to the Gibbs free energy decreases at lower temperatures and suggests that HEAs in the form of solid solutions at high temperatures may become metastable and decompose at low temperatures. For example, Stepanov et al. showed that Cantor alloy exhibits a typical single-phase face-centered cubic (FCC) structure upon quenching; however, it can decompose with the precipitation of a secondary Cr-rich σ-phase after prolonged annealing at 600 °C[60]. This representative finding again underscores the importance of processing history in the phase selection of HEAs, which will be discussed in later sections.
Sever lattice distortion
In HEA systems, various atoms with different atomic sizes lead to varying bond configurations and local lattice energies. These bond configurations create a high lattice distortion within the crystal structure[61,62]. The severe lattice distortion has been experimentally confirmed in many HEA systems via X-ray diffraction (XRD), neutron diffraction, and TEM[62-66]. Such severe lattice distortion leads to more diffuse scattering through the lattice and causes the broadening of diffraction peaks with a decrease in the peak intensities compared to traditional dilute alloy systems. The increase in lattice distortion also impedes the motion of dislocations through the matrix, which leads to solid solution strengthening. Traditional solid solution strengthening models typically involve the contributions of solute atoms to a matrix of solvent atoms. Still, these models are challenging to apply to HEAs as the solvent and solute atoms cannot be clearly distinguished[59]. To that end, new solid solution hardening models have been developed by accounting for the lattice and shear modulus distortion in the local environment near each constituent atom[61,67]. The lattice distortion within HEA systems has also been shown to correlate strongly with the stability of various phases. For example, single-phase solid solutions tend to be more stable in systems with low lattice distortions. In contrast, intermetallic and multi-phase structures are more likely to form in systems with high lattice distortions. This effect can sometimes outweigh the effect of high configurational entropy in phase selection[55,68,69].
Sluggish diffusion
Diffusion through HEAs can be much slower than diffusion in conventional alloys. Many researchers have investigated the elemental diffusion in HEA systems and have found that the diffusivities are often much lower than those in binary or dilute alloy systems[70-72]. This sluggish diffusion can improve the stability of solid solution phases as harmful intermetallic phases can be largely suppressed. Intermetallic phases can only form under non-polymorphic solidification conditions, which require long-range diffusion. Additionally, metastable solid solutions form under polymorphic crystallization conditions, which only require topological atomic rearrangements on the atomic length scale[23]. Thus, the sluggish diffusion in HEAs suppresses the long-range diffusion that would lead to the formation of brittle intermetallic phases and instead promotes polymorphic crystallization to form solid solutions. Additionally, the coarsening of grains can be inhibited due to sluggish diffusion, leading to improved thermal stability and thermomechanical performance at elevated temperatures[73-75].
Cocktail effect
Dr. Ranganathan first proposed the cocktail effect to describe the synergistic nature of compositionally complex alloys[76]. This effect describes the unexpected properties observed in HEAs, bulk metallic glasses, and super-elastic and super-plastic metals (also called "gum" metals)[48]. Unlike the other effects described earlier, the cocktail effect does not predict the expected properties of HEAs. Still, it serves as a reminder that certain elemental combinations can achieve synergistic effects that are not predicted from the base constituent elements.
HIGH-THROUGHPUT COMPUTATIONAL METHODS TO DESIGN HEAS
As previously mentioned, the compositional space opened by the concept of HEAs is vast. This design space is too large to explore through traditional trial-and-error means. Thus, it is of significant interest to identify promising compositions and phases via high-throughput computational methods[77]. These computational methods include machine learning, first-principles calculations, molecular dynamics, and CALPHAD. The field of high-throughput computational studies is extremely wide and covers too many topics to discuss succinctly. As such, the discussion of computational methods is limited to studies focused on phase formation and mechanical properties of HEAs to illustrate the potential advantages and disadvantages of the previously mentioned methods.
COMBINATORIAL ADDITIVE MANUFACTURING TO EXPLORE LARGE COMPOSITIONAL SPACE
After narrowing a target composition space using computational methods, the remaining candidate compositions are still too numerous to reasonably explore via traditional metallurgical techniques. Thus, high-throughput manufacturing techniques are needed to rapidly produce samples that cover the candidate composition region. Previous studies have utilized magnetron sputtering and diffusion multiples to produce combinatorial libraries[28,149-151]. However, as previously discussed, these techniques produce samples at micro- or nano-scale, which may not be representative of bulk materials.
Additionally, the cooling rates experienced during magnetron sputtering are orders of magnitude greater than the cooling rates in traditional manufacturing settings[35,36]. Thus, there is a need for a manufacturing technique that can produce vast compositional libraries at a bulk length scale with practically relevant cooling rates. Laser additive manufacturing (LAM) has shown great promise towards that end. Previously LAM has been used to produce alloys with improved properties compared to their conventionally manufactured counterparts[36,152-159]. Two main types of LAM are used in combinatorial studies, i.e., laser directed energy deposition (DED), also known as laser engineered net shaping (LENS), and laser powder-bed fusion (L-PBF)[160]. The DED process utilizes a carrier gas that allows the powder to flow continuously while shielding it from oxidation during deposition. A laser source simultaneously heats the material upon contact with the printing substrate or previous layer[37]. In the case of L-PBF, a flatbed of powder is deposited on a substrate. A laser is then used to melt the particles in a pattern determined by design software to form a part layer by layer[161].
Functionally graded materials
LAM can produce compositionally graded materials, making it a powerful tool for rapid combinatorial material exploration[160]. DED is the more common method used to produce graded materials, as the multiple nozzles can be coaxially aligned with the laser, ensuring that each nozzle's flow rate can be individually adjusted to spatially control the deposited alloy composition[162,163]. By dynamically changing the flow rate during AM, a compositional gradient can be formed, allowing for the exploration of a large compositional space within the same sample [164,165]. This method is schematically illustrated in Figure 11A, where a compositionally graded wall is produced starting from pure Cantor alloy at the base and increasing the content of refractory metals with increasing the build height[166]. Pegues et al. used this method to add Nb, Ta, and Ti6Al4V to CoCrFeMnNi to produce 3 different materials libraries[166]. They explored the effect of these additions on the microstructure and mechanical properties of the resulting alloys. Utilizing this method allowed them to efficiently explore a large compositional space without producing large samples. Micro-hardness tests on all three libraries revealed that the addition of the refractory elements resulted in increased hardness, likely due to the formation of secondary intermetallic phases such as a Laves phase[166].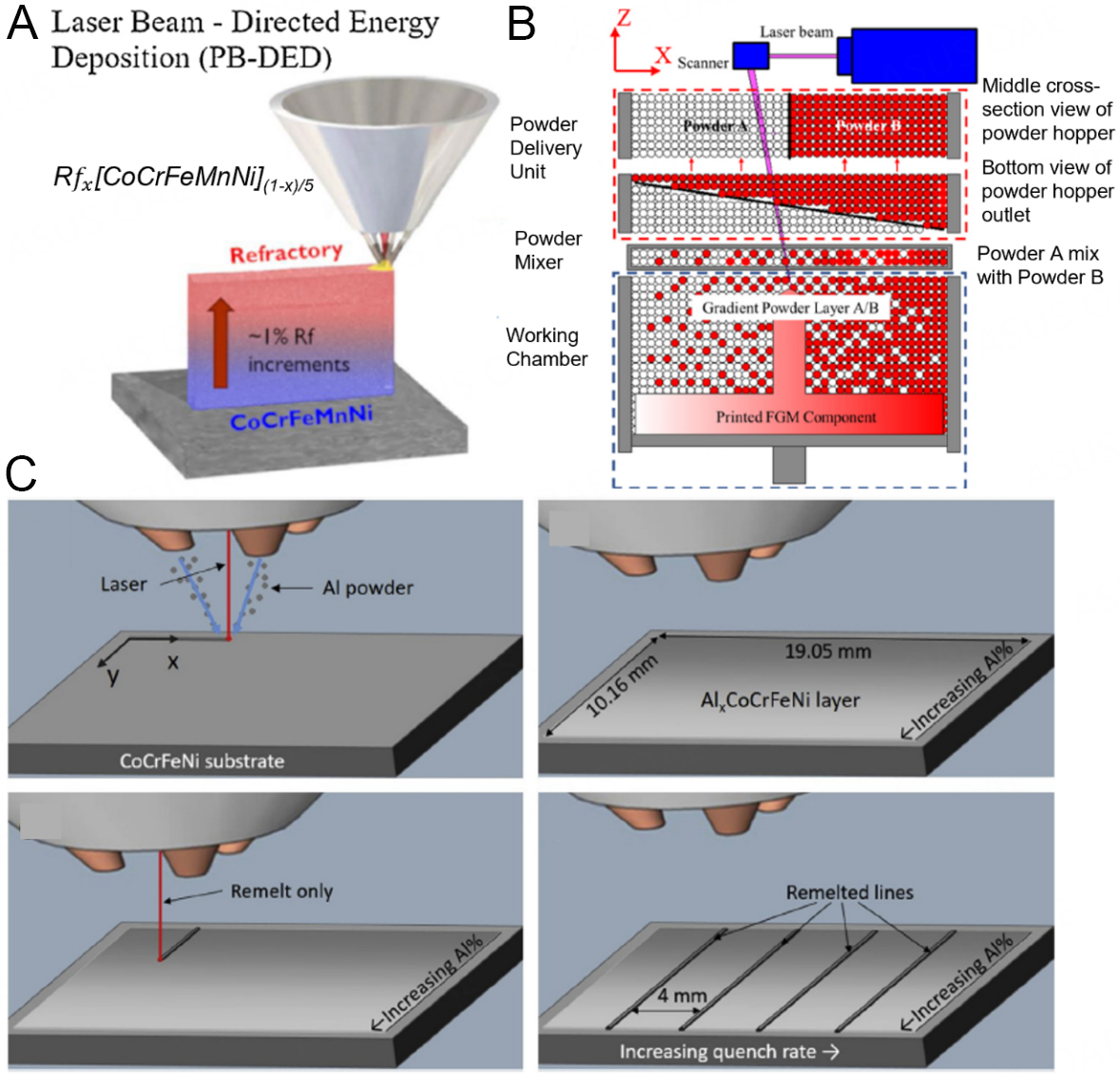 Figure 11. (A) Schematic illustration of high-throughput manufacturing of HEAs in a graded material under laser-directed energy deposition (L-DED). This figure is quoted with permission from Pegues et al.[166], copyright 2021, Elsevier; (B) schematic illustration of manufacturing a graded material under laser powder bed fusion (L-PBF) conditions. This figure is quoted with permission from Wen et al.[167], copyright 2021, Elsevier; (C) graded material library produced via L-DED in AlxCoCrFeNi. The graded HEA library is remelted to investigate the effects of composition and cooling rate. This figure is quoted with permission from Li et al.[171], copyright 2020, Elsevier. HEA: High-entropy alloy.
While DED is the most common method to produce gradient materials compositionally, Wen et al. used L-PBF to produce a gradient material, as shown in Figure 11B[167]. Normally, L-PBF is considered undesirable for compositionally graded materials as the powder composition cannot be systematically controlled once loaded in a chamber. Wen et al. addressed this issue by adding a partition within the powder hopper so that two different powders could be loaded together. Then a mixer is placed below the hopper that mixes powders along the width of the mixer. This mixture forms a compositional gradient in the laser scan plane when the powder bed is deposited. Thus, a horizontal compositional gradient forms rather than the typical vertical gradients achieved in DED combinatorial studies[168-170]. Wen et al. used CoCrFe medium entropy alloy and Inconel 718 as the feedstock powders to prove this new technique's concept. At the pure CoCrFe end of the alloy gradient, a pure FCC phase structure was formed and as the Ni content increased due to the addition of Inconel 718, a secondary HCP phase was formed. The HCP phase content increased with increasing Ni content. The decrease in hardness occurred with increasing Ni-content, which is likely due to the larger sub-grain size observed near the Inconel 718 end.
Li et al. used DED to explore the effects of compositional and cooling rate changes on the microstructure and mechanical properties of the Al-Co-Cr-Fe-Ni alloy system [171]. First, they produced a pure CoCrFeNi substrate via casting. Then, they deposited varying amounts of Al on the substrate using a LENS system which formed different compositions of AlxCoCrFeNi along the substrate surface, ranging from x = 0.51 to x = 1.25, as shown in Figure 11C. The laser was also used for remelting straight lines parallel to the compositional gradient with different laser powers and scan speeds which induced different cooling rates in the compositional library. Three compositions from the library were also chosen to produce casting counterparts to achieve cooling rates far below what is achievable through DED. This method allowed the cooling rate to be varied from 25-6,400 K/s. Their findings showed that the lowest Al-containing compositions exhibited a dual-phase FCC + BCC structure which transitioned to a pure BCC/B2 at near equiatomic compositions. Additionally, compositions with low Al content showed a primary FCC phase with a cellular microstructure. The cellular microstructure followed a power law of the form

where λ is the cell size, A is a fitted parameter, and

is the cooling rate. The microstructure refinement resulted in hardening following the Hall-Petch relationship. This work illustrates the potential for laser-based AM methods to rapidly and simultaneously explore the effects of composition and cooling rate on the phase evolution and mechanical properties of HEAs.
Teh et al. used DED to produce compositionally graded pillars within the Co-Fe-Ni alloy system[172]. By adjusting the content of each element along the build direction, the phase fraction of FCC vs. BCC was varied from pure BCC at the base of the pillar to dual phase FCC + BCC to pure FCC at the top. The hardness also varied with build height due to changes in composition and grain size caused by increasing the Ni concentration. They characterized the functional properties of each composition in addition to the mechanical properties by measuring the saturation magnetization, coercivity, and electrical resistivity. After analyzing the combination of properties, the authors presented a radar chart comparing some promising compositions to pure Fe, as shown in Figure 12A.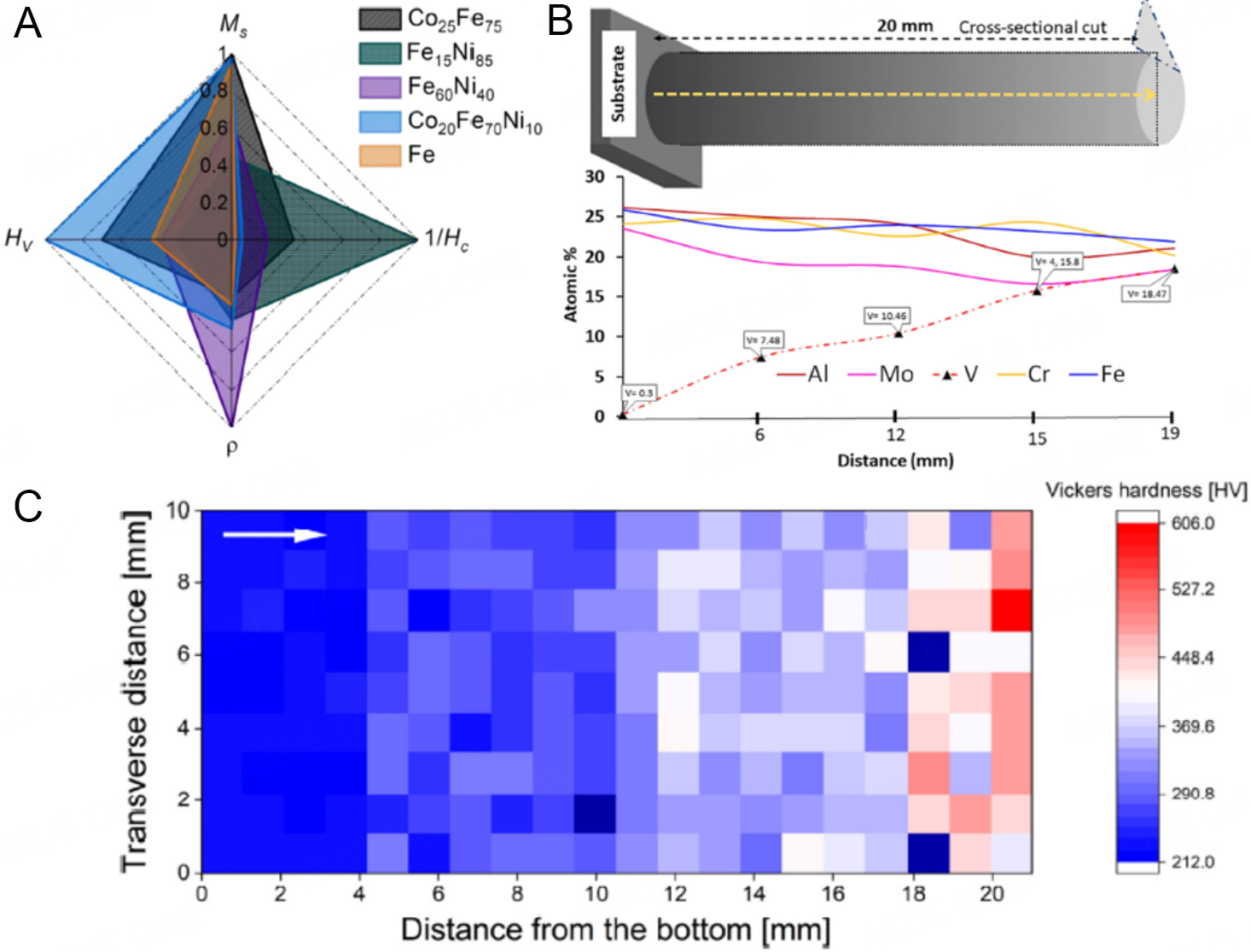 Figure 12. (A) Radar chart comparing properties of various promising compositions discovered from graded material library of the Co-Fe-Ni system. This figure is quoted with permission from Teh et al.[172], copyright 2022, Elsevier; (B) change in V concentration along the build direction for AlMoVxCrFe alloy. This figure is quoted with permission from Gwalani et al.[173], copyright 2019, Elsevier; (C) vickers hardness map of the side surface of graded CoCrFeNiTix HEA system. This figure is quoted with permission from Zhao et al.[174], copyright 2021, Elsevier. HEA: High-entropy alloy.
Gwalani et al. varied the V content in an AlMoCrFeVx (from x = 0 to x = 1) HEA system [Figure 12B][173]. The addition of V led to solid solution hardening, increasing the hardness monotonically from 485 HV at x = 0 to 581 HV at x = 1. The microstructure remained purely BCC for all compositions and remained stable after annealing at 1,100 °C for 30 min. The grain size was also negligibly changed, which indicated high thermal stability. Zhao et al. blended Ti and CoCrFeNi powders in various compositions[174]. They then layered the different compositions within a powder supply bin to build a compositionally graded pillar by increasing the Ti content along the build direction[174]. All compositions showed an FCC structure primarily with minor BCC, Laves, and phases that contain Ti. Figure 12C shows a hardness map based on the results taken from the printed graded structure. As the secondary phase volume fractions increased, the hardness increased, and analysis of the various strengthening mechanisms suggested that the inclusion of the secondary phases was the main cause of the increase in strength. However, high Ti content layers also showed significant cracking. Thus, the authors concluded that 10 at. % was the maximum threshold of Ti content to produce crack-free samples and parts in CoCrFeNiTix HEA system.
Bulk materials library
While graded materials provide a convenient means to explore multiple compositions within a single sample, they cannot give a full picture of material performance due to the possible mixing between layers during LAM, which can be difficult to control. In this sense, bulk materials libraries can produce individual samples to be studied in further detail while maintaining a high-throughput approach if rapid characterization techniques can be applied. One such example is illustrated in Figure 13A, where Yu et al. used DED to produce a library of bulk samples using elemental Al powder and Cu50Zr50 powder in separate powder hoppers, as seen in Figure 13A[175]. This work aimed to find the optimal compositions and processing conditions to produce bulk metallic glass composites (BMGC). BMGCs are materials formed by adding a crystalline phase into a glassy amorphous matrix[176].
Figure 13. (A) Schematic of high-throughput fabrication and screening of combinatorial materials library and images of the printed library of Cu-Zr-Al alloy system. This figure is quoted with permission from Yu et al.[175], copyright 2021, Elsevier; (B) schematic of combinatorial material library fabrication and ultrasonic screening to rapidly estimate effective processing parameters of Zr51Ti5Ni10Cu25Al9 bulk metallic glass (BMG), adapted from Zhai et al.[177]; (C) schematic illustration of materials library produced with discrete dots of varying compositions. This figure is quoted with permission from Tsai et al.[178], copyright 2016, Elsevier; (D) schematic of DED processing of Fe-Ni-Cr-Mo bulk materials library. This figure is quoted with permission from Islam et al.[180], copyright 2021, AIP Publishing. DED: Directed energy deposition.
The crystalline phase helps hinder the propagation of shear bands and dissipate fracture energy, which can significantly improve the room temperature ductility of BMGCs compared to monolithic bulk metallic glasses[155]. In their work, BMGC samples were deposited and then remelted to produce initially deposited melt pools with similar dimensions and different cooling rates. An 11 × 11 sample library was produced where the Al content was adjusted from 0 at. % to 10 at. % along the x-direction while the laser power was varied along the y-direction from 150 W to 400 W. Finite element modeling (FEM) was used to estimate the cooling rates and XRD analysis was used to confirm the phase constitution. After identifying phases with both amorphous and crystalline phases, the authors defined a uniformity coefficient to estimate the sample that would be expected to show the highest ductility. This criterion arose because ductility is closely related to the spatial distribution and uniformity of the crystalline dendrites within the glassy matrix. The optimal composition contained 4 at. % Al and used a remelting power of 175 W.
The rapid cooling rates induced by laser-based AM techniques can encourage the formation of amorphous structures in additively manufactured alloys and hence offer a unique opportunity to study bulk metallic glass (BMG) formation[177]. Zhai et al. fabricated a library of one composition with varying processing conditions to rapidly determine the optimal conditions to produce a defect-free BMG[177]. The composition used was Zr51Ti5Ni10Cu25Al9. Using ultrasonic wave attenuation, they were able to rapidly determine the presence of defects, pores, or crystalline grain boundaries that may affect the performance of the BMG. This technique is schematically illustrated in Figure 13B. A laser power of 1,300 W and 600 mm/min was determined to provide the highest fraction of amorphous material while remaining defect-free. This work highlights the use of DED combined with ultrasonic wave attenuation to provide a non-destructive and easy way to rapidly investigate and verify the glass-forming ability of many compositions immediately after they are printed.
It is currently very difficult to predict the glass-forming ability (GFA) of an alloy composition. Thus, the current exploration of BMGs requires a high-throughput investigation similar to that of HEAs. For this reason, Tsai et al. deposited a combinatorial library of Cu-Zr-Ti to identify the composition with optimal GFA[178]. Figure 13C shows a schematic illustration of the construction of this library[178]. The library was built by depositing discrete hemispherical samples with varying Cu:Zr ratios between each row of samples. After the initial deposition, a layer of Ti was deposited with various feed rates and simultaneously melted onto the library. Each sample was remelted 2 more times to ensure the elements were fully melted and incorporated into each sample.
Once the library was prepared, each sample was remelted with different laser powers of 200 W, 240 W, and 280 W. Since a higher laser power leads to a lower cooling rate, compositions that maintain glassy microstructure with higher laser power should have higher GFA. Differential interference contrast (DIC) imaging under optical microscopy was used to screen for amorphous materials as samples with amorphous structures show a smooth liquid-like topography under DIC. At the same time, crystalline microstructures appear rough[179]. A total of 144 discrete samples were investigated, and 92 were identified as amorphous for the lowest power. Based on the previously mentioned criteria, the composition with the highest GFA was Cu51.7Zr36.7Ti11.6, as it showed a high fraction of amorphous microstructure and was located in the center of the region of compositions that exhibit an amorphous microstructure after remelting at 280 W. It was also pointed out that this method could be extended to alloy systems with even more components by using pre-alloyed powders. Thus, the procedure laid out by Tsai et al. illustrates a means to rapidly identify BMGs with excellent GFA within a given alloy system. In addition to the optimal composition, combinatorial studies can also be used to rapidly determine optimal printing parameters for a given alloy system. Islam et al. carried out such a study on 25 different compositions in the Fe-Ni-Cr-Mo alloy system to and define a normalized dimensionless parameter based on the energy input density from the laser and the material properties of the constituent atoms[180]. A schematic illustration of their experimental method is illustrated in Figure 13D.
Eutectic HEAs (EHEAs) combine design concepts from both HEAs and eutectic alloys and show great potential for structural applications due to their impressive combination of strength and ductility[156,181]. This combination of properties arises from a hard and soft phase which help provide strength and ductility, respectively. However, further optimization is possible through minor composition adjustments to achieve near-eutectic HEAs. Joseph et al. produced a library of bulk AlxCoCrFeNi2.1 samples using the DED method to analyze the effect of Al-content on the microstructure and mechanical properties of alloys with near-eutectic compositions[182]. Figure 14A presents the XRD peak patterns of the compositions explored and shows an increase in the B2 phase with increasing the Al content. Additionally, cast samples with the compositions of each phase were prepared. These allowed the authors to investigate samples with single-phase microstructures that were either purely FCC or purely B2 phase. After analyses of the phase fractions and compressive properties of each composition, it was found that the alloys' yield strength followed a rule of mixtures based on the yield strength of the individual phases. This work highlights the ability of DED to provide large sample sets that allow for rapid characterization of multiple compositions that can elucidate strengthening trends within a system to achieve an optimal composition.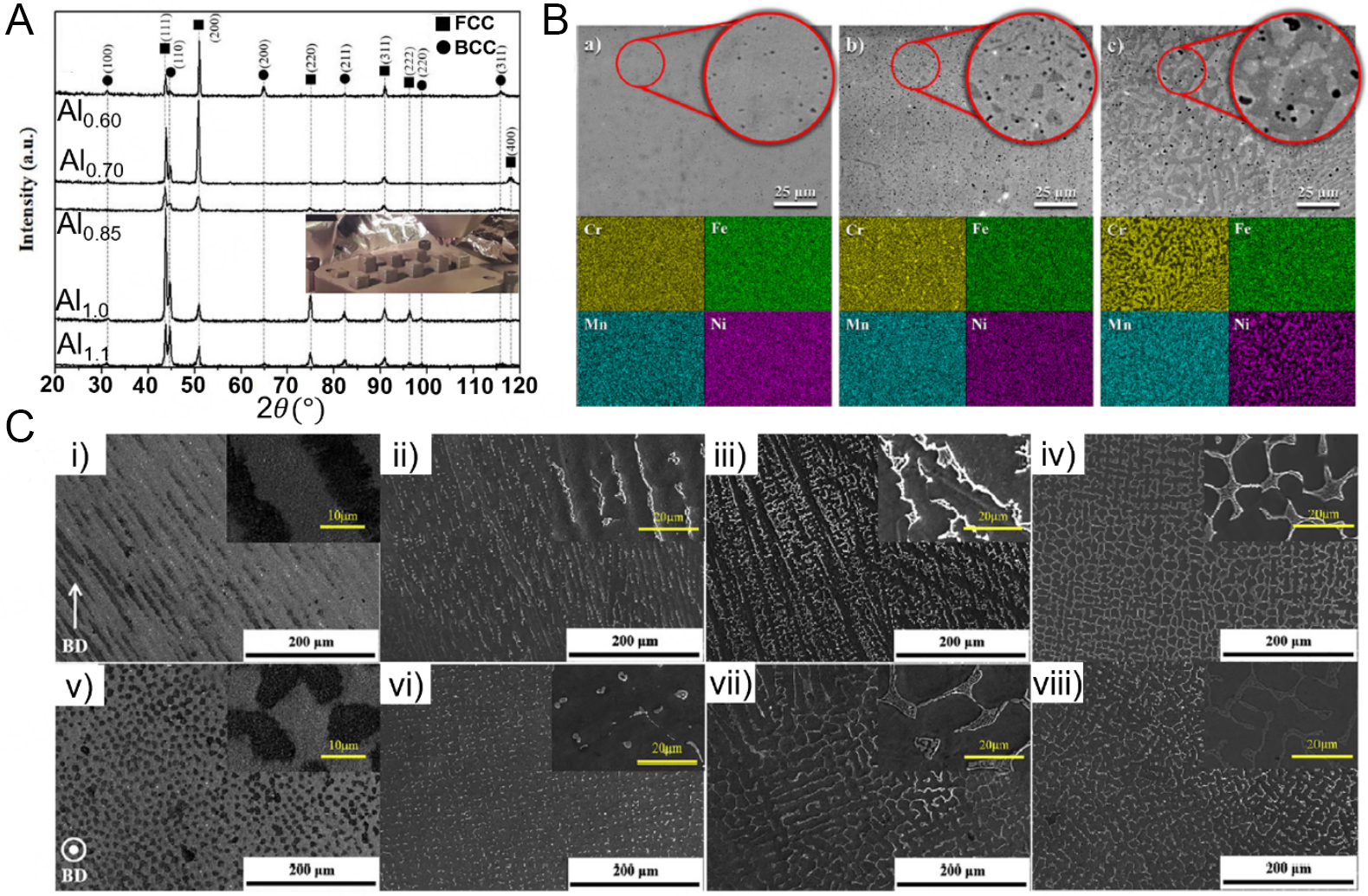 Figure 14. (A) X-ray diffraction profiles of AlxCoCrFeNi2.1 showing the change in FCC and BCC phase fractions with changing Al content. The inset shows an image of material library. This figure is quoted with permission from Joseph et al.[182], copyright 2020, Elsevier; (B) SEM images and EDS maps of Cr19Fe31Mn11Ni39, Cr28Fe23Mn20Ni29, and Cr42Fe17Mn20Ni21, from left to right. This figure is quoted with permission from Moorehead et al.[183], copyright 2021, Elsevier; (C) SEM images of the as-deposited CoCrFeNiNbx parallel to the build direction: (i) CoCrFeNiNb0; (ii) CoCrFeNiNb0.1; (iii) CoCrFeNiNb0.15; (iv) CoCrFeNiNb0.2; and perpendicular to the build direction: (v) CoCrFeNiNb0; (vi) CoCrFeNiNb0.1; (vii) CoCrFeNiNb0.15; and (viii) CoCrFeNiNb0.2. This figure is quoted with permission from Zhou et al.[9], copyright 2019, Elsevier. BCC: Body-centered cubic; FCC: face-centered cubic.
When testing the radiation damage resistance of a material, it is imperative to use bulk samples as the damage layer thickness is typically on the order of microns, and the compositional gradient struggles to maintain chemical homogeneity over large length scales. Additionally, thin-film-based materials typically form nano-grain microstructures, which artificially increase the radiation damage resistance of a material, making the results misleading compared to application conditions. Moorehead et al. printed a compositional library of Cr-Fe-Mn-Ni alloys to assess their irradiation properties[183]. It was found that Cr-rich compositions showed an increase in BCC phase fraction, while Fe and Ni-rich compositions showed higher FCC content, and Cr and Ni tended to segregate together preferentially. This trend can be seen in Figure 14B, where the compositions with a higher Cr content show more severe segregation. Nanoindentation was utilized as a high-throughput means to measure the effect of ion irradiation on the hardness of each composition. Radiation-induced hardening was found in all compositions with FCC, BCC, and FCC + BCC phases. The increase in hardness was consistently shown to be 1-1.5 GPa, with BCC-rich compositions showing the least increase in hardness. Additionally, Moorehead et al. found that compositions with a high Mn content may have a large amount of Mn depletion after homogenization due to the depressed melting point of high Mn-content alloys. Thus, the authors laid out a guideline to keep the Mn-content below 25 at. %. Finally, the time saved using the high throughput AM approach is highlighted compared to the traditional metallurgical approach of melting and casting. The authors state that traditional melting and casting could take up to 1-2 hours per composition compared to the 10 min per composition required by the DED method.
Zhou et al. utilized DED to rapidly produce samples with compositions CoCrFeNiNbx (referred to here as Nbx)[9]. The authors investigated the mechanical properties of each alloy composition and its correlation to the phase and microstructures present. Figure 14C shows SEM images of 4 compositions (Nb0, Nb0.1, Nb0.15, Nb0.2) prepared by DED. The top row shows images taken parallel to the building direction, while the bottom row shows images taken perpendicular to the building direction. The authors concluded that the addition of Nb to the CoCrFeNi system led to a transition from a columnar to an equiaxed structure due to the formation of a secondary Laves phase in addition to the primary FCC phase. The Laves phase also caused an increase in yield strength in the Nb0.2 composition more than three times that of the Nb-free composition while maintaining a ductility above 10%.
HIGH-THROUGHPUT CHARACTERIZATION TECHNIQUES
While high-throughput computational methods can narrow down the alloy design space and high-throughput manufacturing methods enable rapid fabrication of samples within the design space, high-throughput experimental methods are needed to characterize the manufactured materials' properties to experimentally verify which set of composition and processing conditions ultimately leads to the target performance. This section focuses primarily on the different high-throughput methods which can rapidly characterize important material properties such as hardness, strength, ductility, phase and composition, magnetic hysteresis, saturation magnetization, and corrosion resistance.
CONCLUSIONS AND FUTURE OUTLOOK
HEAs present abundant opportunities to search for new materials with properties and performance that can exceed traditional dilute alloys. While the potential for this new class of materials is promising, the vast composition and microstructure space is too large to explore efficiently via traditional metallurgical techniques based on trial-and-error approaches. This review article highlights important advances in combinatorial studies that either present high-throughput methods to rapidly filter out undesirable materials or provide insights into general rules of thumb to allow researchers to design high-performance materials more efficiently.
The ultimate goal is to ensure that researchers spend more time understanding how to design and manufacture high-performance HEAs for industrial applications and less time on repetitive sample preparation and characterization methods. Implementing efficient high-throughput methods can minimize the time spent studying sub-optimal alloy compositions, which maximizes the resources spent on improving the most promising alloys. First, this review explores the high-throughput computational techniques that can down-select the design space before experimental characterization is even attempted. Then, it presents works that use additive manufacturing as a solution to produce large combinatorial libraries of bulk sample materials at length scales comparable to those expected during service and applications. Finally, high-throughput material characterization is highlighted for rapid understanding of the relationships between composition, microstructure, and material properties. This review article serves as a guideline for developing workflows that can efficiently discover new high-performance HEAs. To this end, several research frontiers in the field are put forward:
1. Machine learning (ML) techniques can provide predictions of massive design space, but there currently exists a shortage of robust training sets for HEA compositions. Further investment in high-throughput computational techniques that can produce these robust databases, such as CALPHAD, first-principles calculations, and molecular dynamics simulation, is needed. Once these databases are sufficiently established, ML techniques can provide highly reliable predictions of the phase constitution for unknown compositions. They can even predict bulk properties such as yield strength and density.
2. Additive manufacturing provides a means to rapidly produce bulk samples of varying compositions and microstructures. However, AM materials are prone to defects that can significantly deteriorate performance. Further studies, including in-situ characterization during 3D printing, are needed to better characterize the small-scale physics, in-situ alloying chemistry, and macroscale defect formation to reduce the work needed in preliminary optimization.
3. Data collection and analysis of material characterization techniques need to be further automated to enable high-throughput characterization of enormous materials libraries without significant time investments from researchers. Such techniques as phase, composition and microstructure characterization may need to be carried out in parallel to maximize the efficient use of equipment with overlapping functionalities, such as SEM with EBSD capabilities. Additionally, data processing automation is critically needed to rapidly characterize the vast number of compositions that are explored in high-throughput experiments.
DECLARATIONS
Acknowledgments
This work is based upon research conducted at the Center for High Energy X-ray Sciences (CHESS), which is supported by the National Science Foundation under award (DMR-1829070). The authors are grateful to Katharine Shanks at CHESS for her support in data acquisition and analysis at the ID3A beamline.
Authors' contributions
Writing: Mooraj S
Manuscript supervision and editing: Chen W
Availability of Data and Materials
Not applicable.
Financial support and sponsorship
Chen W acknowledges the support from National Science Foundation (DMR-2004429) and UMass Amherst Faculty Startup Fund.
Conflicts of interest
All authors declare that there are no conflicts of interest.
Ethical approval and consent to participate
Not applicable.
Consent for publication
Not applicable.
Copyright
© The Author(s) 2023.
Cite This Article
OAE Style
Mooraj S, Chen W. A review on high-throughput development of high-entropy alloys by combinatorial methods. J Mater Inf 2023;3:4. http://dx.doi.org/10.20517/jmi.2022.41
AMA Style
Mooraj S, Chen W. A review on high-throughput development of high-entropy alloys by combinatorial methods. Journal of Materials Informatics. 2023; 3(1):4. http://dx.doi.org/10.20517/jmi.2022.41
Chicago/Turabian Style
Mooraj, Shahryar, Wen Chen. 2023. "A review on high-throughput development of high-entropy alloys by combinatorial methods" Journal of Materials Informatics. 3, no.1: 4. http://dx.doi.org/10.20517/jmi.2022.41
ACS Style
Mooraj, S.; Chen W. A review on high-throughput development of high-entropy alloys by combinatorial methods. J. Mater. Inf. 2023, 3, 4. http://dx.doi.org/10.20517/jmi.2022.41